Jessica Richardson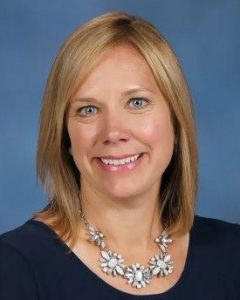 Jessica Richardson, principal at Ocean Palms Elementary School (OPES), was selected by Superintendent Tim Forson to be the principal of K-8 school "KK" currently being constructed at 2135 Palm Valley Road, Ponte Vedra, 32095. Her nomination was approved by the School Board at their December 12 meeting.
"Jessica has an innate ability to develop strong and lasting connections with students, staff, families and community members," said Forson. "She is the perfect candidate to provide a smooth transition to the new school."
Richardson started her teaching career in St. Johns County 18 years ago and joined Ocean Palms as principal in 2014. Prior to this she served as the assistant principal at Cunningham Creek Elementary. She also taught second, third and fourth grade and served as an instructional literacy coach. Before joining CCES she worked at PVPV/Rawlings Elementary School and Ocean Palms Elementary School, where she held her first position with the district as a third grade teacher.
Meeting the social, emotional and academic needs of each student, every day is paramount to Richardson. Creating and cultivating a school environment where students can find personal success and embark on educational experiences that will shape their future is a priority of her service-oriented leadership model.
"I am very enthusiastic about continuing my professional journey alongside the students, staff, and families in Northeast St. Johns County," said Richardson.
Richardson was named St. Johns County Assistant Principal of the Year in 2013. She holds a bachelor's degree from the University of North Florida and a master's degree from Grand Canyon University.