Welcome to the Clinic at Palm Valley Academy!
Link: Quarantine Information, COVID next steps and FAQ for parents
Link: Department of Health Early Quarantine Release Process
NEW APP!! The St. Johns County Department of Health is working to improve the community's ability to communicate with the DOH when someone tests positive for COVID-19.  People are encouraged to use the Healthy Together app to identify and input information regarding their case. The information is linked with the Department of Health's system. It may take up to 48 hours for the information to be processed.  Department of Health main number 904-506-6081, option 8, press 1.
Nurse Alice and Nurse Kara are excited to serve our PVA Bobcats this year. Please help us to be ready to care for your student in the coming year.
New medical needs or alerts? Make sure the school has up to date information. If you need to add anything to your students health record, please send in a written note ("Attention: School Nurse") to be placed with your students file.
Need to leave medication at school? Download any forms (right hand column) and bring in to your pediatrician. A parent and doctor must sign the forms for them to be valid. Only new, unexpired medications can be accepted. The Department of Health requires that all medications to be in their original container with a readable pharmacy/consumer label. Please click on our "Medication Policy" below for any further questions.

Link: St John's County Medication Policy
HELP KEEP OUR STUDENTS HEALTHY
Deciding when to keep your child home from school can be difficult.  Please follow these recommendations and the two step guidelines below…….
STEP 1: St John's County School District Illness Guidelines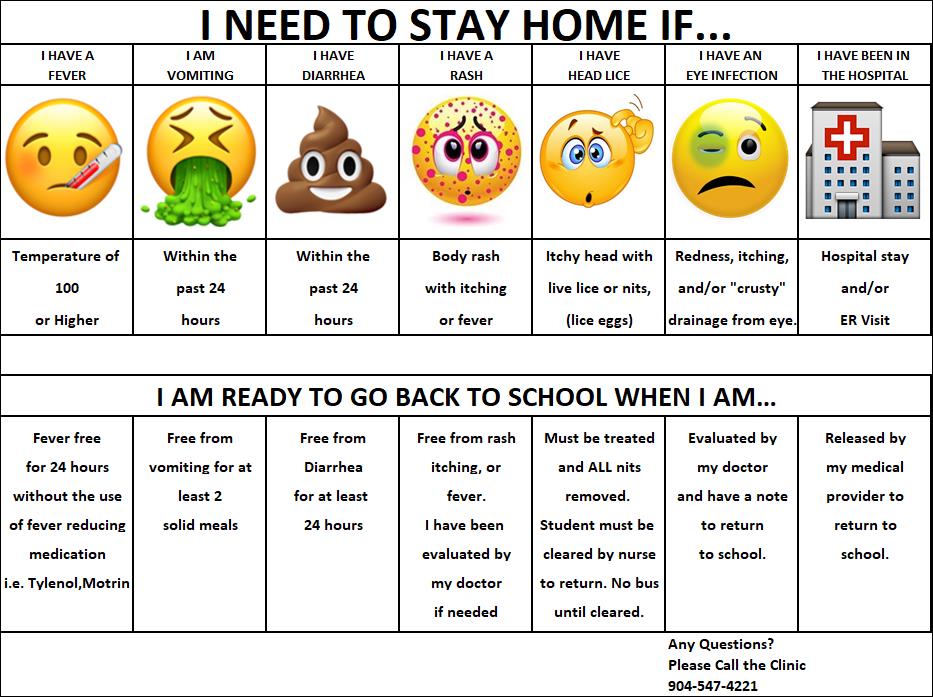 STEP 2: Assess your child daily for the additional COVID-19 symptoms and answer the contact questions: (Link: SJCSD Health Services Webpage)
1.     Fever of 100.4 or higher

2.     Uncontrolled cough

3.     Shortness of breath or difficulty breathing

4.     Sore throat

5.     Loss of sense of smell or taste

6.     Muscle aches

7.     Vomiting or diarrhea

8.     Is your child currently awaiting COVID-19 test results?

9.     Does your child live in the same household with someone positive for COVID-19?

10.   Has your child had close contact with someone who in the past 14 days who tested positive for COVID-19?
Any "YES" answers = your student should stay home. Please email your child's teacher.
IMPORTANT: Absences will be excused with a written (parent or doctor's) note sent in upon your student's return. The school nurse will let you know if a doctor's clearance note is required for your student.
Scholastic Magazine – Age appropriate lessons include "How germs spread" and "How our immune system works"
Contact Nurse Alice and Nurse Kara by email
**Due to the busy nature of our clinic, please send us an email if you have questions or concerns for the nurses that are not emergent and we will contact you within 48 hours**
School Clinic Number: 904-547-4221            School Days 8am-3pm Monday- Friday