Welcome to the Clinic at Palm Valley Academy!
Important End of Year Information
If your student has medication in the clinic: Please make time to stop by to pick it up before the end of the school year. District policy does not allow for medication to remain in the school over the summer.  It will be important for you to make arrangements to pick up your child's medication since medications may not go home with the student.
Any medication left in the clinic will be discarded according to district policy.
Paperwork for next year (2023/24): New medication forms must be completed every school year.  Starting in June, medical forms for the 2023/24 school years can be found in the right side bar of this page. Paperwork is standardized across all St John's County Schools should your student be transferring to high school or another district school. If your child has a physical examination during the summer months, this is a good time to get these medical forms completed.
Have a great summer!!!!!!
HEALTH RESOURCES
NEWSLETTER: Focus on Health: Nutrition, Physical Activity, Water Safety 
LINK: SJCSD Health Services Department
HELP KEEP OUR STUDENTS HEALTHY
Deciding when to keep your child home from school can be difficult.  Please follow the recommended guidelines below…….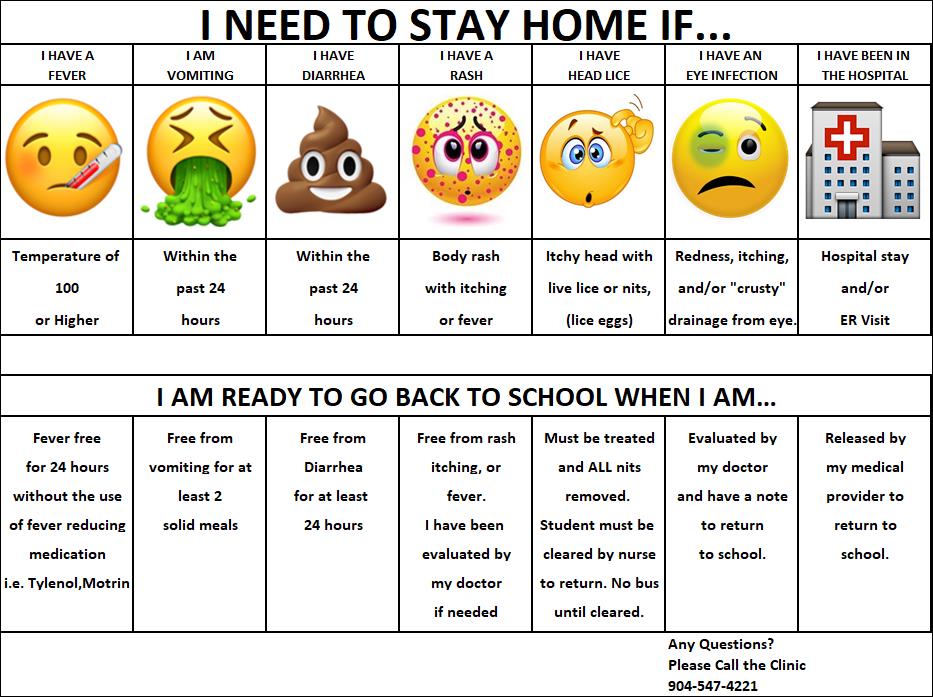 IMPORTANT: For absences to be excused, please fill out the online form (or send in a written note, by parent or doctor) within 48hours upon your student's return.
Contact Nurse Alice and Nurse Kara by email (Link)
**Due to the busy nature of our clinic, please send us an email if you have questions or concerns for the nurses that are not emergent and we will contact you within 48 hours**
School Clinic Number: 904-547-4221
(School Days 8am-3pm Monday- Friday)