Mission Statement
The mission of the PVA School Counseling Program, is to increase academic achievement through student advocacy and to promote student success through a focus on academic achievement, social/personal, career, and multicultural/global citizenship development. The program's ultimate goal is for all students to depart empowered with the knowledge and skills to be able to make self-directed, realistic and responsible decisions and to be successful contributors to society.
A Note From Our School Counselors
School counselors are an important part of the educational leadership team and provide valuable assistance throughout all grade levels.
At Palm Valley Academy, we are fortunate to have 4 School Counselors. Our counselors work with students one-on-one, in small groups, and with whole classes to reach every student and provide the specific services needed to help all students in the areas of academic achievement, social/emotional development; and to ensure that today's students become the productive, well-adjusted adults of tomorrow.
Through a comprehensive school guidance program, our counselors provide guidance and character lessons throughout the year. We are responsive to the needs and requests of parents, students, and teachers. Our team provides resources and outreach for families who need assistance during the holidays and throughout the year. Small group counseling is helpful to teach pro-social behavior, emotional coping, and tools for academic success. Through individual counseling, counselors provide short-term, solution-focused interventions at school. These interventions help students cope and manage stressors and unexpected life events that can occur throughout the school year. In addition to counseling responsibilities, our team coordinates all the 504 meetings, provides Gifted Screeners, English Language Learners testing and are active participants on our MTSS and PBIS teams. You will see us throughout the school on any given day monitoring in the cafeteria or in small group testing, greeting and helping our newest students get acclimated, collaborating with teachers and administrators, or giving fist bumps and high fives at a pep rally.
The Palm Valley Counseling Team is committed to making our school a safe and welcoming place for every student. We want to build bridges to connect the good things that are going on at school with the great things you are doing at home. Please feel free to reach out to any one of us with question, problem, concern, or praise you would like to share. We always want to have open communication and a caring heart. Your concern is our concern.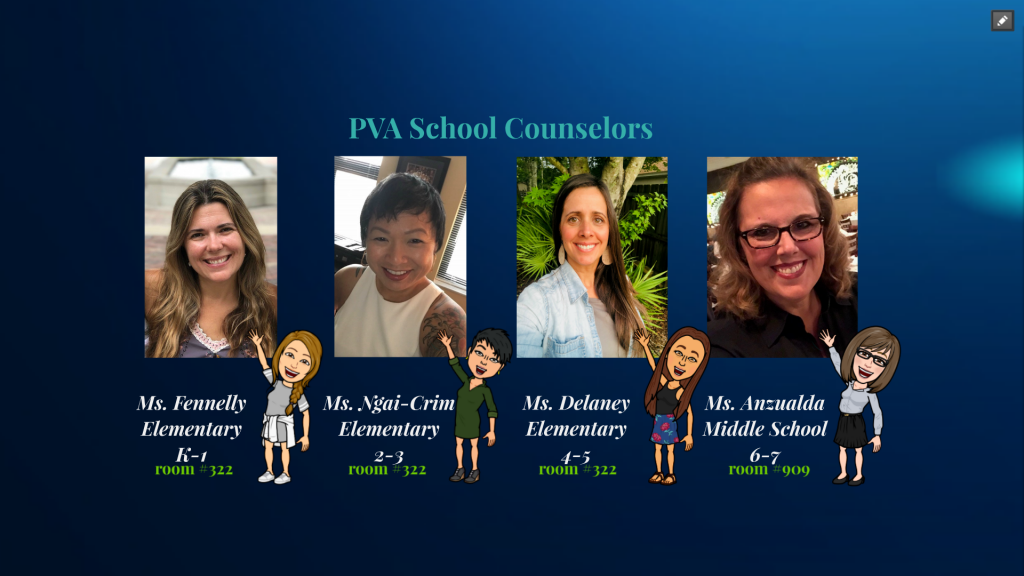 School Counselors: (click name to email)
Corinne Fennelly – Kindergarten and 1st Grade School Counselor
Karin Ngai-Crim – 2nd and 3rd Grade School Counselor
Taneen Delaney – 4th and 5th Grade School Counselor
Dawn Anzualda – 6th and 7th Grade School Counselor
Counselor Biographies:
Corinne Fennelly
Karin Ngai-Crim
Taneen Delaney
Dawn Anzualda
Instructional Literacy Coach:
Anje Newbold
Dean:
Ryan Velsor